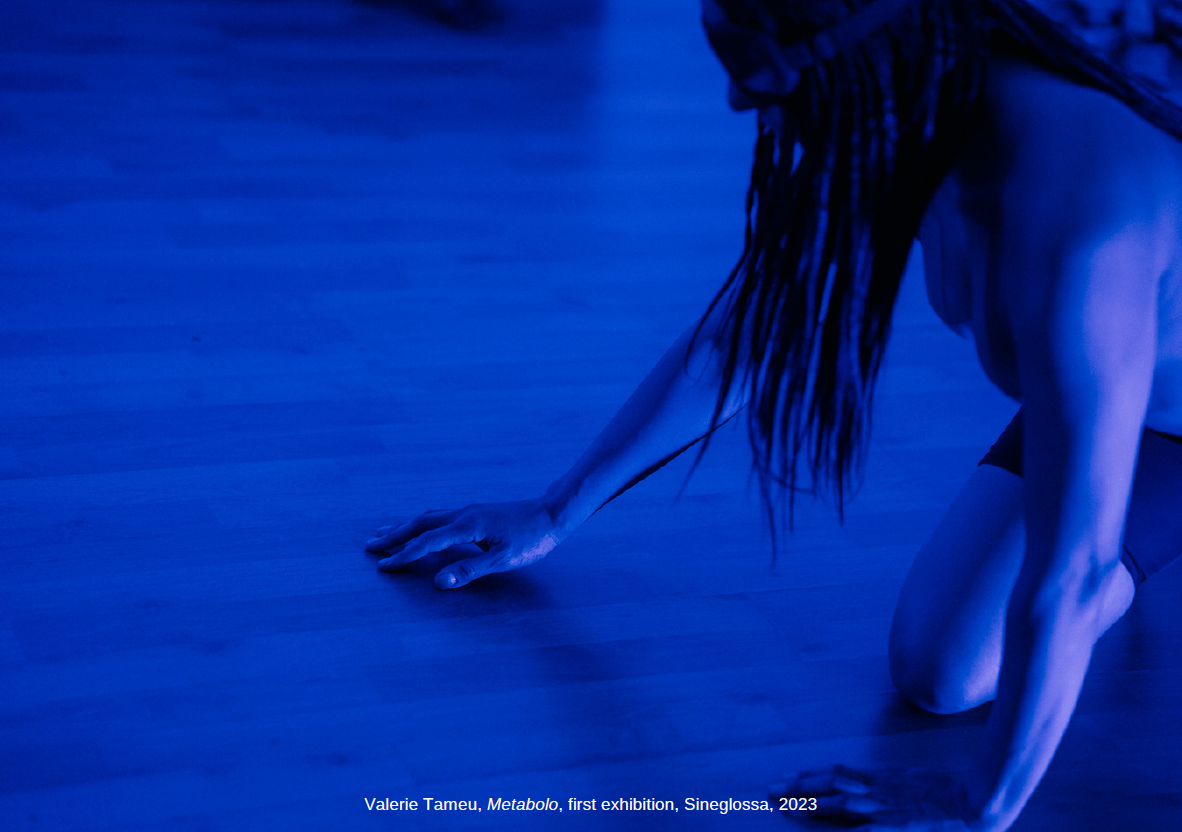 METABOLO
project ideation and curation Sineglossa
with Valerie Tameu
within FOOD DATA DIGESTION
in collaboration with Play with Food, Free University of Bozen and Lavanderia a Vapore
supported by Fondazione Compagnia di San Paolo
within the fund call ART-WAVES
creative developer Michele Cremaschi
contribution to costumes Augusta Tibaldeschi
contribution to music Michele Mandrelli
marine biology consultant Agnese Riccardi
dramaturg Federica Patti
"What is less than human and what I would like to consider more than human is not a passive and unconscious object, but applies active and real forms of resistance." (Valerie Tameu)
Metabolo creates an ecosystem of mutual influence between the human body, artificial machines, and marine ecosystems, in a relationship of multispecies coexistence. With Metabolo, the artist questions the possibility of using technology to promote other forms of intelligence and culture, not only those that are Western or anthropocentric, through the selection of datasets created by certain fish species and the reinterpretation of indigenous practices. This relationship is made explicit in the first place through the connection between artificial intelligence and one of the marine ecosystems on our planet, the one that is located below the Frying Pan Tower, 34 miles off the coast of Cape Fear, NorthCarolina.
There an underwater webcam placed by volunteers for research purposes streams live images on YouTube and is freely accessible. Unlike most other underwater webcams on the same online platform, this webcam does not show animals held in captivity, but in their natural habitat. The artificial intelligence connected to this robotic eye processes the texture and unique movements of Cape Fear's oceanic world through machine learning and translates them into data that modify the soundtrack on which the artist creates the performance, in Europe, in real time. This human, machine and more-than-human interaction becomes the starting point for the creative elaboration of the performance.
This relationship also includes the spiritual world, represented by the myth of MamiWata, an aquatic deity worshipped in several West and Equatorial African countries, who is half human and half fish, a hybrid and an alien being at the sametime. The artist draws inspiration from this Goddess to create a techno-spiritual ritual, once again learned by artificial intelligence through motion-tracking software on the scene. Like a deity, the manifestation of such a ritual is meant to be symbolically an unexpected appearance, which is translated into a visual created in real time and sent to an online platform that is only available when the performance is happening. The same visual will be projected at the performance site.