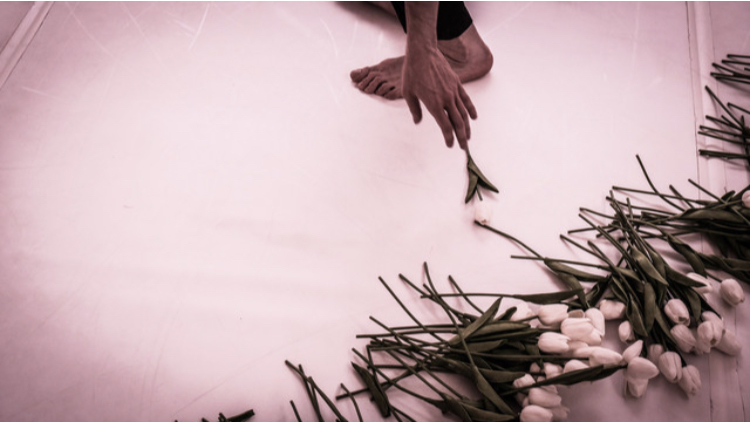 LORENZO DE SIMONE | Permutazioni 2019/2020
by and with Lorenzo De Simone
project realized with the support of PERMUTAZIONI
and of INCUBATORE C.I.M.D. per futuri coreografi
with the contribution of Kinkaleri and Associazione PinDoc
2020 recovery dates
VARIAZIONE #2: ELOGIO ALLA GENTILEZZA

 

is

 a 

solo

 that draws life from the circular exchange between art (contemporary dance) and science (psychology). It is an act of personal and gestural subtract

ion to reach the essence of 

kind

ness, as an

 

act, 

body

 and 

sight

.

 

In order 

to

 give back to people their own gaze and their own imagination that they have donated for the creation of this work. 

A succession and a constant and continuous unfolding of forms, actions and gestures derived from science 

translate through the

 body 

which create a

 conference 

attempting

 to answer the question "

What is kindness?

".
Lorenzo De Simone studied contemporary dance following the leading national and international dancers and worked with Compagnia Nut (Milan), Willi Dorner, Compagnia Virgilio Sieni. In 2018 he started his career as an author; his first work (Variazione #1: S. Velato) debuted at the Festivals "Più che Danza" and Festival "Dominio Pubblico". In 2019 he graduated in Development Psychology and Protection Process.
---
PERMUTAZIONI
a co-working choreographic project by CASA LUFT, Zerogrammi and Fondazione Piemonte dal Vivo
partners Lavanderia a Vapore (Fondazione Piemonte dal Vivo, Associazione COORPI, Mosaico Danza/Festival Interplay, Associazione Didee, Zerogrammi)
in network with Università degli Studi di Torino, Torinodanza Festival, Med'arte (Associazione Tersicorea) – Italia, Compagnia Heliotropion – Francia, Compagnia Borderlinedanza – Italia, Twain physical dance theatre – Italia, Centro Daiva Jyoti / Cie La Bagarre – Italia, Compagnia Nut – Italia, La pietra pomice – Italia, Compagnia Càjka – Teatri di mare- Italia, Asmed Associazione Sarda Musica e Danza – Italia, Maya INC Società Cooperativa Art – Italia, Compagnia Muxarte – Italia, Associazione Enti Locali per le attività Culturali e di Spettacolo – Italia, CEDAC -Circuito Multidisciplinare – Italia, AssociazioneSuoni&Pause – Italia, Cooperativa Sant'Elia 2003 – Italia, La FucinaTeatro/Crogiuolo – Italia, Compagnia Koreoproject – Italia, Associazione Fin Doc – Italia, Fondazione Fabbrica Europa per le arti contemporanee – Italia, Association Culturelle Scaraboum /Théâtre Crac: Fabrique de mensonges – Francia, Association KAMAR – Tunisia, Caravansar Producción Y Gestión – Spagna, Asociacion Cultural Metacau – Spagna, Centro studi Ipogei SPECUS – Spagna, Teatro Cafè de Las Artes – Spagna 
For further information about the project, visit Zerogrammi.org.