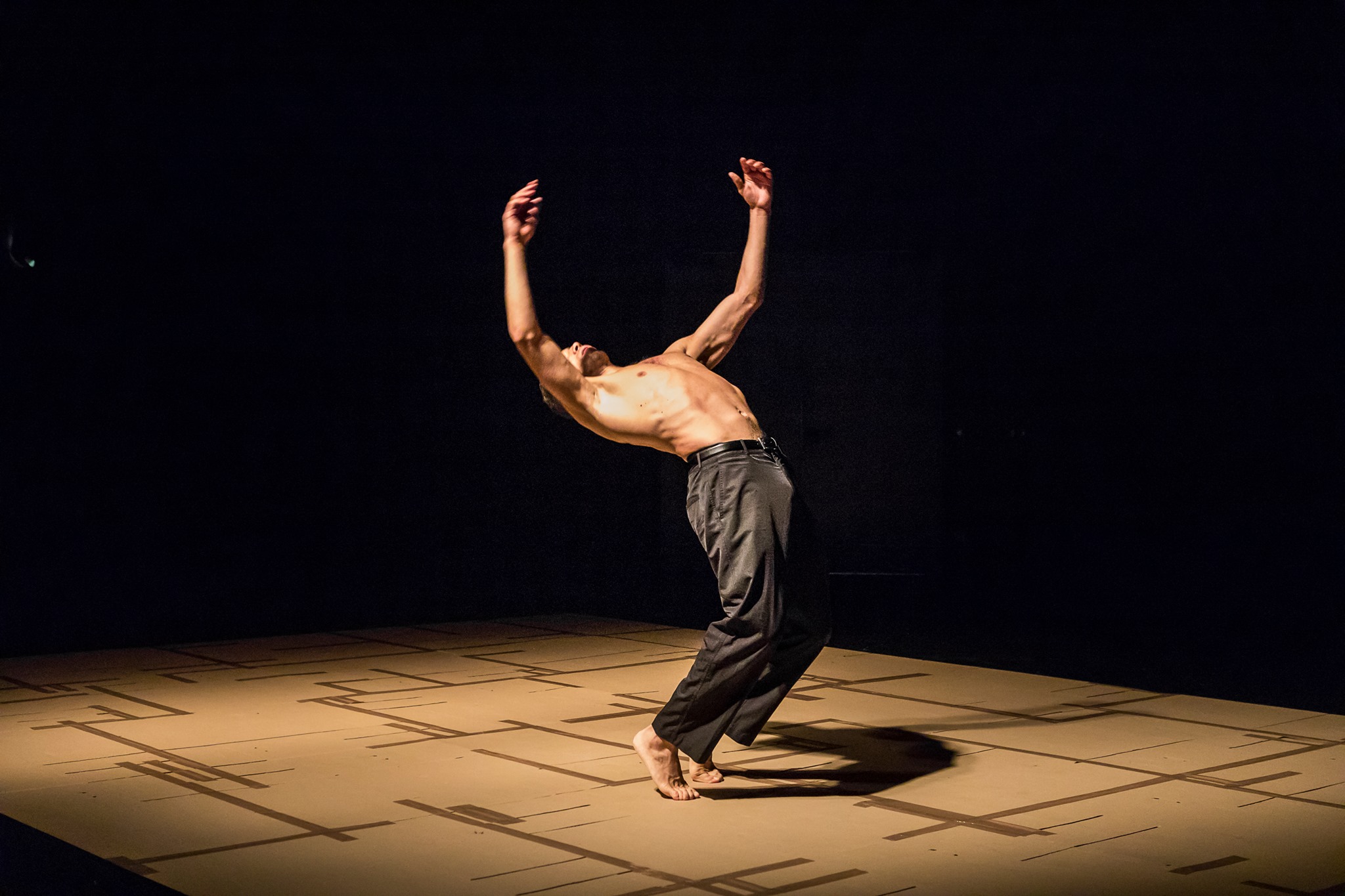 BLACK/WHITE creation 2022 quartet | Étape Danse
choreography by Hamdi Dridi
dancers Houcem Bouakroucha, Emmanuel De Almeida, Hamdi Dridi, Feteh Khiari
within the network Etape Danse
in collaboration with Mosaicodanza / Festival Interplay
Having danced on the rooftops and tram platforms in his neighbourhood of "Montrouge" in Tunis, Hamdi Dridi joined the Ness El Fen dance company run by Syhem Belkhodja, before studying under Maguy Marin from 2010 to 2011. He then moved to the CNDC in Angers in 2013, and subsequently embarked on the exerce masters programme at the ICI CCN in Monpellier-Occitanie, led by Christian Rizzo, from 2015 to 2017. In homage to his father, the solo TU MEUR(S) DE TERRE (2014/2016) asserts his attachment to the value of the worker's gesture in dance, an approach reinforced in his trio I LISTEN (YOU) SEE (2018/2019). Honing his signature style, he continues this in his new creation ACTE(S) ET SUEURS (2020). The choreographer's research encompasses hip hop and urban and contemporary dance in their widest sense, and he links this with his interest in the spoken voice, creating novel networks with his compositions of sound and musical spaces, in this way outlining the specific colours of his global and continually evolving choreographic space. In 2020, his creation coproduced by Festival de Marseille and the Ballet national de Marseille, in which he interrogates the body in action in respect to a group and through sound creation, the mechanics of movement and the gesture's metamorphosis of gestures in the dancers' bodies, was canceled because of the health crisis. He has undertaken several collaborations with visual artists, musicians, dancers and composers based on the founding idea of bringing artists and technicians together with the stage, all working and sharing in the sensibility. He established his Montpellier-based dance company Chantiers Publics in 2018, which is supported by the Ministry of Culture – Drac Occitanie, the Occitanie Pyrénées-Méditerranée Region and the Montpellier Danse competition.
---
ÉTAPE DANSE
A cooperation project between France, Germany and Italy to support new choreographic creations
Étape Danse is a trilateral project for international choreographic residencies that aims to promote the new promising creations of significant choreographers of the contemporary scene from France, Germany and Italy. The program, initiated by the Bureau du Théâtre et de la Danse à Berlin, was born from the collaboration between Fabrik Potsdam, La Maison center de développement chorégraphique national Uzès Gard Occitanie, Théâtre de Nîmes and Associazione Mosaico Danza joined them in December 2018. In 2019 Mosaico involved the Fondazione Piemonte dal Vivo – PDV (Circuito Regionale Multidisciplinare del Piemonte) – Lavanderia a Vapore, in order to make the project sustainable, providing selected artists with a professional work space, contributing to their artistic growth, and promoting intercultural dialogue between guest artists and local companies. From 2021 Interplay involved also Torinodanza Festival / Fondazione Teatro Stabile di Torino – Teatro Nazionale, thus further increasing the financial support in support of contemporary dance. The project thus develops its international vocation in the best possible way, coming to support every year 3 talented companies selected: one French, one German and one Italian.