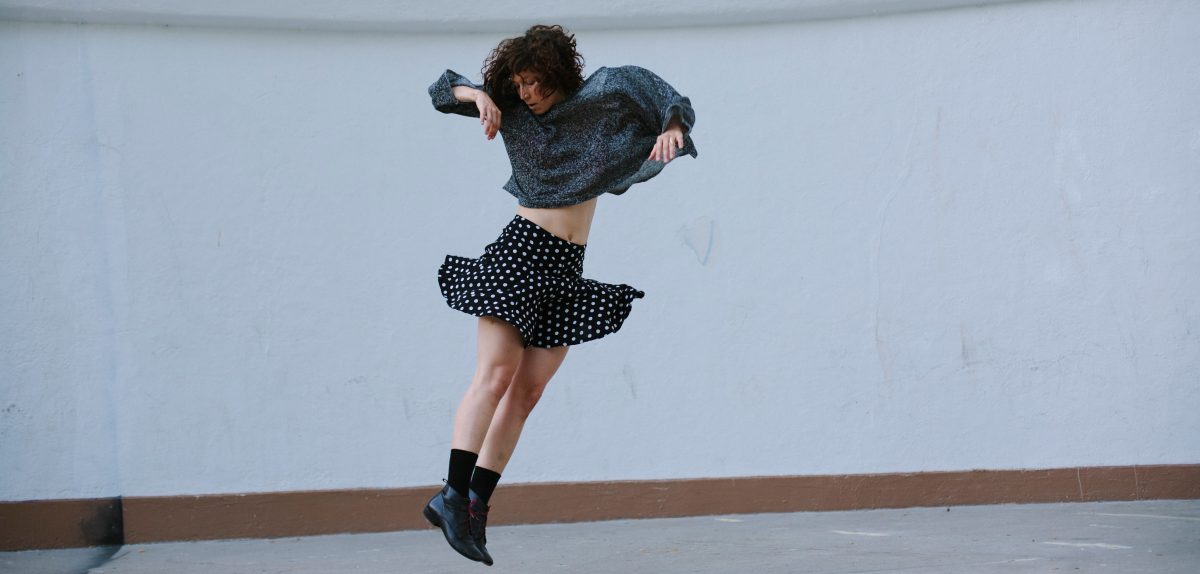 JUMP
international residency created by Ilana Reynolds
and also with Katarzyna Ustowska and Ewelina Zielonka
tutor Simona Bertozzi
JUMP residency is a part of the choreographic project What About Jumping?.
Ilana Reynolds has stated:
"What About Jumping? is a dance lecture performance with three dancers exploring the phenomenon of jumping. The work emerged from a desire to demonstrate practice based research in its temporality and tell its story through the body and to an audience. The lecture performance grew out of a three-month research on the action of jumping within historic and contemporary dance practices, a research I conducted as a Masters student at the University of Frankfurt Performing Arts in 2017. This research then further extended in May 2017 into a 10-day choreographic mentorship program, funded by Felina Areal Theater in Mannheim, Germany where I invited three dancers to research with me the choreographic, social, and physical meanings of jumping.
The focus of a residency at Lavaderia a Vapore would be to craft these two experiences together to create a full-length lecture performance. The work does not aim to demonstrate jumping aesthetics, but rather extracts jumping from its social contexts such as: raves, fitness studios and vernacular dances, in order to explore jumping's choreographic potential and expressive qualities. The action is deconstructed into bouncing, vibrating, rebounding and landing as jumping manifestations. These parts are woven together as an explorative storytelling of what is discovered as sensation and experience in the body and bodies through the action of jumping. Interwoven with live text, drawings and three dancers, the work questions what brings the body into a state of jumping and why. What might togetherness look like? Can we connect to a new sense of vitality? What happens to a room filled with jumping bodies?
As mentioned briefly above, this work has had many phases of research: academic, choreographic mentorship and collaboration. I am interested in culminating this year-long process into a finished piece. During the residency, the main areas of work would be on specifying the dramaturgical arch of the piece, in addition to the relation of text and movement, lecture and performance. I am interested in any dramaturgical support, as well as holding open showings of the process and developing workshops/classes based on the
research for the local community. I am inviting two other dancers to take part in my process, Valentin Schmehl and Katarzyna Ustowska".